Charlotte, N.C. Charlotte Plaza, located at 201 S. College Street in  Uptown Charlotte, N.C. will soon be home to STK Steakhouse, the internationally known Vibe  Dining concept from The ONE Group Hospitality, Inc. The new steakhouse will open in the  7,000 SF retail location that was formerly Carolina Ale House. The plans call for dramatic  improvements to the interior and exterior – especially the expansive patio, which is the largest  single tenant outdoor space in Uptown. The space also features a mezzanine level for private  events and dining.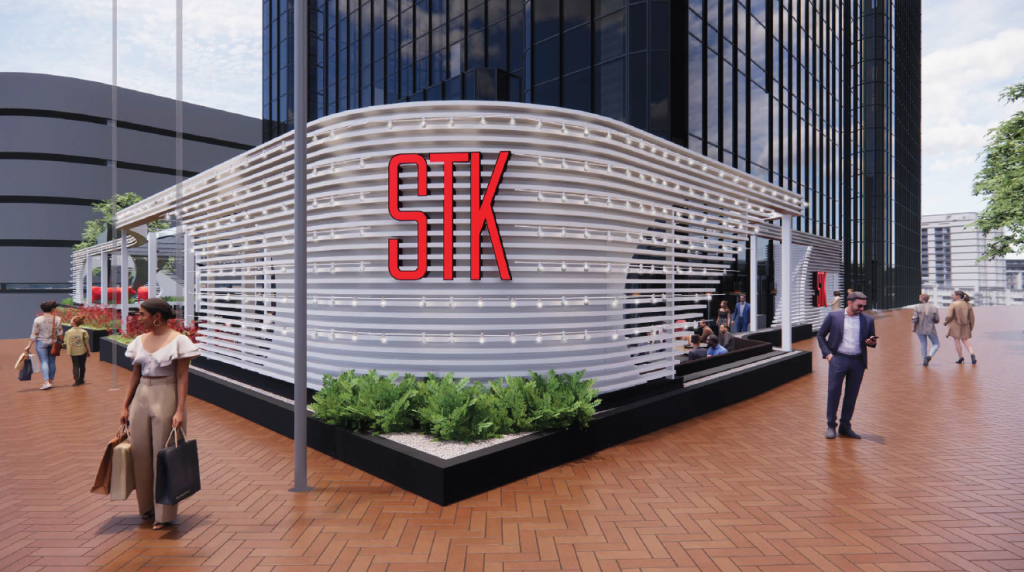 STK Steakhouse artfully blends the modern steakhouse and a chic lounge into one to create its signature Vibe Dining atmosphere, which offers a dynamic fine dining experience with the superior quality of a traditional steakhouse. Every venue has a DJ to create an infectious, high energy atmosphere and the sleek environment is designed to encourage guests to interact and mingle. Ultimately, STK aims to define the modern dining experience with incredible food, world class service, and the perfect ambiance. Targeted opening is Summer 2023.
One of the most distinctive buildings in Uptown, Charlotte Plaza is a 27-story, 650,000 SF Class A office tower with ground floor retail and connected to the Overstreet Mall. Only steps away from the Light Rail, Charlotte Plaza is ideally located in the heart of Charlotte's Central Business District and is walking distance to any of Uptown's major attractions and sports venues. The asset is owned by New York-based Rabina and managed by Foundry Commercial.
"We're thrilled that STK has selected Charlotte Plaza to launch their entry into this market, capitalizing on an opportunity that positions the brand on one of Uptown's most prominent corners," said Lynne Lawrence, Executive Vice President, Asset Management with Rabina.
STK CEO, Emanuel "Manny" Hilario added, "We are excited to be partnering with Rabina Properties to bring STK's signature vibe dining experience to the booming Central Business District in Charlotte. I am confident that STK will be a welcome addition, and we look forward to sharing our high-energy atmosphere and quality menu items with locals and visitors alike."
Keely Hines with Foundry Commercial represented the Landlord and Marc Offit / Courtney Waldron with Braden Real Estate Company represented the Tenant in the transaction. ARIA Group is the architect for the project.
About Rabina
Rabina is a real estate investment and development firm based in New York that has been family-owned and operated for three generations and more than 60 years. Through multiple
business cycles, Rabina has owned more than 25 million square feet of residential, office, retail, mission critical and industrial assets throughout the United States and abroad. The Rabina portfolio continues to grow through a robust pipeline of ground-up development and opportunistic investments in institutional-quality assets. Consistent leadership, a long-term vision and a commitment to integrity have allowed Rabina to thrive across the years as partner, developer, landlord, borrower, and lender. Applying long-standing principles to present challenges, Rabina stands poised for continued growth in an ever-changing market. For more information, visit https://www.rabina.com.
About Foundry Commercial
Foundry Commercial is a full-service commercial real estate services and investment company operating across the office, industrial, retail, multi-family, healthcare, religious, and not-for- profit asset classes and clients. Focused on the Sun Belt markets, Foundry is sustained by 2,000 associates operating from 11 markets, providing leasing and management on more that 62 million square feet and over 3,000 seniors housing units, typically executing over $1.6 billion in leasing, tenant rep, and investment sale transactions annually. Foundry's development and investment platform is fully integrated with its services business and is currently invested in over $3.5 billion in joint ventures with many of the best-known institutional investors in the country and currently has over $1 billion in active ground-up developments across all our markets. For more information, visit www.foundrycommercial.com.
About ONE Group Hospitality
The ONE Group Hospitality, Inc. (Nasdaq: STKS) is a global hospitality company that develops and operates upscale and polished casual, high-energy restaurants and lounges and provides hospitality management services for hotels, casinos and other high-end venues both in the U.S. and internationally. The ONE Group's focus is to be the global leader in Vibe Dining, and its primary restaurant brands and operations are:
• STK, a modern twist on the American steakhouse concept with 22 restaurants in major metropolitan cities in the U.S., Europe and the Middle East, featuring premium steaks, seafood and specialty cocktails in an energetic upscale atmosphere.
• Kona Grill, a polished casual, bar-centric grill concept with 24 restaurants in the U.S., featuring American favorites, award-winning sushi, and specialty cocktails in an upscale casual atmosphere.
• ONE Hospitality, The ONE Group's food and beverage hospitality services business develops, manages and operates premier restaurants and turnkey food and beverage services within high-end hotels and casinos currently operating 13 venues in the U.S. and Europe.
Additional information about The ONE Group can be found at www.togrp.com. About STK
STK Restaurants are "not your daddy's steakhouse," offering a high-energy dining experience  that artfully combines the superior quality of a traditional steakhouse with a Vibe Dining  atmosphere unlike any other. Delectable cuisine, upscale cocktails and an elevated Happy  Hour, along with an in-house DJ and chic décor, all come together to offer a memorable fine  dining experience that keeps guests enjoying their evening from drinks to dinner to late night.  STK's menu features reimagined classic American cuisine for lunch, brunch and dinner with  unique local flair infused into each location's menu. The brand's beef program focuses on the  highest quality, delicious and craveable steaks while emphasizing transparency and traceable  sourcing practices. STK has locations in Atlanta, Bellevue, Chicago, Denver, Doha, Dubai,  Ibiza, Las Vegas, London (2), Los Angeles, Miami, Milan, Nashville, New York City (2), Orlando,  San Diego, San Juan, Scottsdale, and Toronto. The company continues to expand globally. For  more information about STK, please visit www.stksteakhouse.com. 
---
Construct America Magazine | The Home of Construction Industry News
Got a story to share? email us at press@construct-america.com